About Whispering Hills Cemetery
Whispering Hills, LLC is a memorial nature preserve that contains within it a natural (green) cemetery.
What is a Natural Cemetery?
The most frequently asked question about Whispering Hills is "What is a natural green cemetery?
A Natural Cemetery, or Green Cemetery, is a cemetery that has a unique, nature focused approach to the burial of the dead. Green burials do not allow embalming or use metal caskets or vaults, but instead, use natural materials that are biodegradable in order to allow remains to decompose naturally.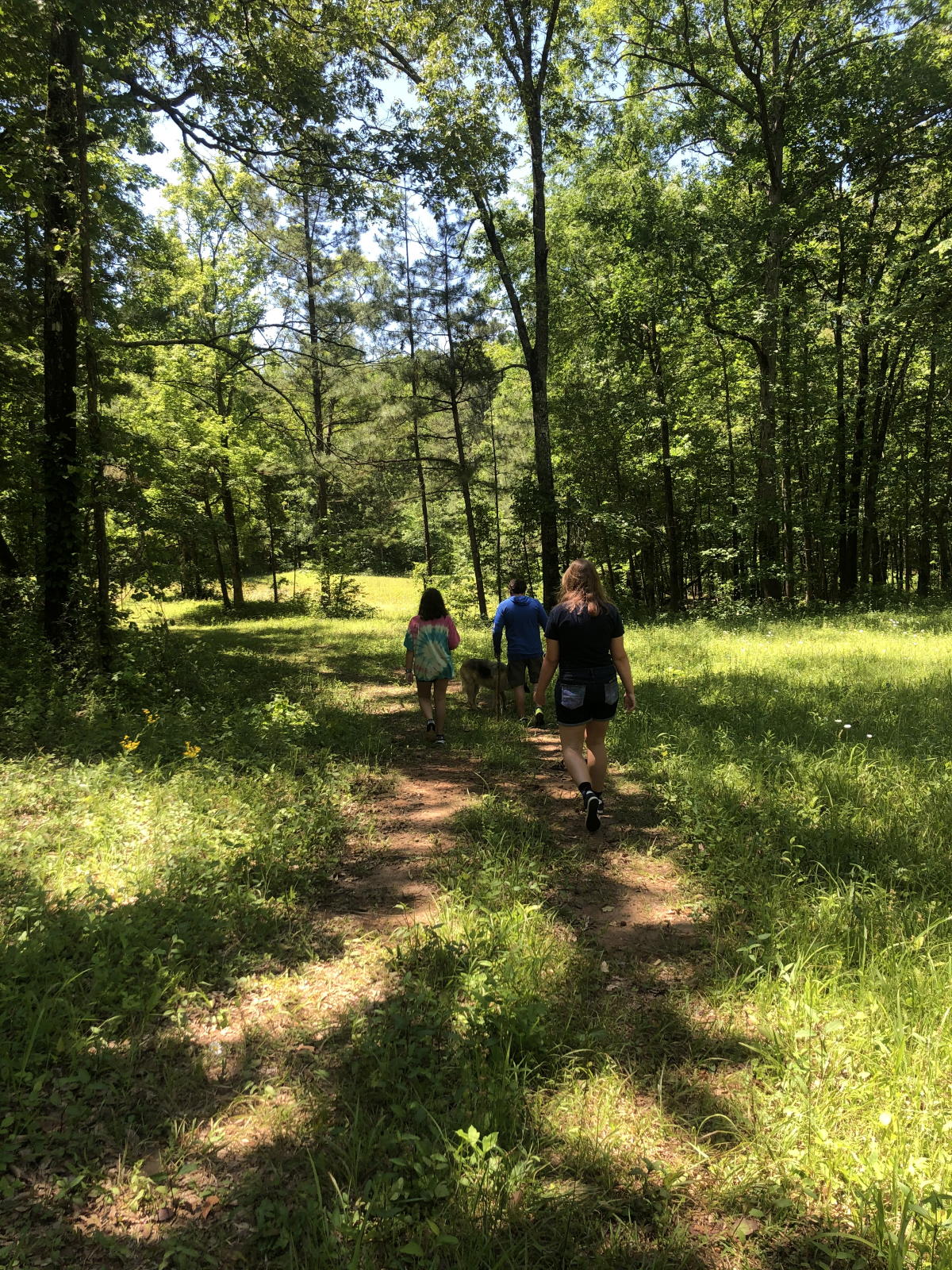 Frequently Asked Questions
Elizabeth Fournier, author of The Green Burial Guidebook answered that when she wrote "Green Burial is a way of caring for our dead with the least possible environmental impact."
Whispering Hills, LLC is zoned and set aside by Troup County Georgia (Plat Book 81, page 89) as a "green, Natural Cemetery Only." It is registered by the State of Georgia as a "Perpetual Care Cemetery." Fifteen percent of funds collected for interment rights is paid into a Perpetual Care Trust to be used in the future if needed to maintain the cemetery.
Additional Information
Licensed funeral directors are required to prepare and accompany the deceased until a burial service is completed.
Whispering Hills will not accept embalmed bodies for burial. Cremated remains will be accepted for burial or scattering.
Burial containers are limited to shrouds and materials that are natural, nontoxic, and/or biodegradable. Metal caskets or cement vaults are not allowed.
A list of approved contractors for opening and closing graves will be provided upon request. Family members may participate in opening and closing graves by hand. Opening of graves by machine will be allowed, but all graves will be filled by hand.
Grave markers made from natural stones which lie flat on the ground may be used and engraved with the decedent's name date of birth and date of death.
No additional decorations or landscaping is allowed on graves.
No adornments of any kind may be left on any interment space, lot, or tree.
No tents, benches, chairs, or similar items are permitted in the preserve unless arranged through the staff or authorized funeral directors. No balloon or bird releases are allowed.
No removal, mining or extraction of soil, gravel, stones, or minerals (other than removal of soil for digging of graves) is permitted.
Locations of graves or scattering sites along with public obituaries and information submitted by families will be kept on digitized files in the office.
Interment & Scattering Services
Every natural burial is unique. The family, the funeral director, and the staff at Whispering Hills will discuss available options and help make arrangements for an appropriate and memorable interment or scattering service.
Whispering Hills LLC is a licensed perpetual care cemetery certified as a natural burial ground by the Green Burial Council of America. It does not have licensed funeral directors, but Directors of the following licensed funeral homes have visited Whispering Hills and can provide you with first-hand information.
Any licensed funeral home of your choice is invited to contact us directly for further information.